Enjoy the broking house services and offer to become the Affluence Shares Sub Broker by knowing every other detail of the company and its program. The Affluence Shares Franchise model is indeed a great business investment option you can opt for, read the insights further.
Summary
Top Business Model
Sub Broker
Revenue Sharing
60% – 80%
Security Deposit
Rs.50,000 – Rs.150,000
Become Sub Broker in
26 Days
Receive Payout in
33 Days
Founder
Dhiren Mahendrkumar Shah
Established Year
2000
Securing a place for itself in the industry, the Affluence Shares broking house has come a long way. The offers they provide are oriented to the business partners and the brokerage charged are as well customer oriented. Check out the numerical representation for yourself.
---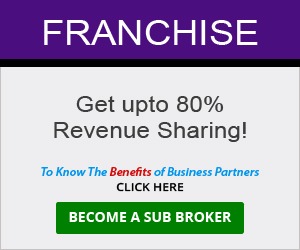 ---
Affluence Shares Franchise – Customer Ratings
Lean over to the Affluence Shares Sub Broker and clients rating, where the kind of experience the encountered can be assumed and future performance can be predicted.
Customer Ratings
Experience
2.5/5
Services
2.4/5
Products
2.6/5
Trading Platforms
2.4/5
Support
2.6/5
Revenue Sharing Model
2.4/5
Security Deposit
2.3/5
Offers
2.6/5
Market Share
2.3/5
Overall Ratings
2.4/5
Star Ratings
★★★☆☆
Let us see the overall Affluence Shares Customer Rating, as that would sum up the broker house's performance as a whole. It is 2.4 rating which is around average, and if the management enhances, it would cross the threshold of average.
---
Overview of Affluence Shares Franchise / Sub Broker
One of the franchise business opportunity provided in the stock broking industry is the Affluence Shares Franchise. The company which offers this service is a private establishment founded by Dhiren Mahendrkumar Shah, and is headquartered at Daman.
Affluence Shares Overview
Company Type
Private
Broker type
Full Service Broker
Headquarters
Daman
Founder
Dhiren Mahendrkumar Shah
Established Year
2000
SB Code Activation Time
26 Days
Payout Time
33 Days
Finally, the sub brokers who apply for the company will be provided a Sub Broker Code Activation Time of 26 days, which will be followed by a Payout Time of 33 days. This company is a full service broker, where one can expect to find kind of financial solutions.
---
Become a Sub Broker with Affluence Shares – Just Fill up the form
---
Compare Sub Broker Franchise
vs
---
Affluence Shares Sub Broker – Business Models
The business models of the firm Affluence Shares, is constructed keeping in view the betterment of the entities and the individuals account holders as well. The models are a great opportunity for all of them to find a way to earn some additional returns.
Business Models
Master Franchise
No
Sub Broker
Yes
Remisier
No
Referral Program
Yes
Two kind of business models are provided by this broking house. First is the Affluence Shares Sub Broker Business Model, and second is rather a referral program.
---
Affluence Shares Sub Broker / Authorised Person Model
Sub broker is indicated toward small firms which are in search for a franchise to invest in. The rightful way of dealing in Affluence Shares trademark, will be provided to the sub brokers, with a revenue option of the end.
Affluence Shares Referral program Model
It is indicated towards the individual account holders, who can contribute some clients to the company, by referring them. The return would be a commission of fixed amount.
---
Affluence Shares Sub broker Commission / Revenue Sharing
The rightful way of making profit will be through the designated Affluence Shares Franchise Revenue Sharing Model as described below, in the table.
Revenue Sharing
Master Franchise
NA
Sub Broker
60% – 80%
Remisier
NA
Referral Program
Rs.1,500 per Refer
Moving on to the revenue entitlements, an account holder enrolled for the referral program will be able to earn of profit of Rs.1,500 per Refer. The revenue entitlement for the sub broker is however in a range of percentage. The percentage ranges in between 60% – 80%.
---
Check out Revenue Sharing of other Sub Brokers
---
Affluence Shares Franchise Cost / Security Deposit
Affluence Shares Franchise Cost is the security deposit required to be made in order to come to an agreement of forming sub brokership. The contract has a norm of payment and it goes by as follows, for both the business models.
Security Deposit
Master Franchise
NA
Sub Broker
Rs.50,000 – Rs.150,000
Remisier
NA
Referral Program
Zero
Stating the obvious for the referral program, the nature of the program requires absolutely no amount of security deposit at all. On the other front, the sub brokers will have to make a deposit which varies in between Rs.50,000 – Rs.150,000.
---
Here are Security Deposit info of other Stock Broking Franchise
---
Affluence Shares Partner Infrastructure Requirement
Some requirements are necessary to commence the franchise business, so, let us begin with discussing about the Affluence Shares Infrastructure Requirement. Following would be some other set of requirements mentioned in the same table.
Infrastructure Requirement
Office Area
Not Mandatory
Employee Strength
Not Mandatory
Research Services
Yes
Internet Connection
No
Trading Terminals
Yes
Telephone Lines
No
Availing the referral program does not need any requirement, however, if the sub brokership is availed, the requirements start with research services and trading terminals. The office area and the employee strength is not mandatory for this firm.
---
Affluence Shares Sub Broker Offers
Sub brokers are an assets for the company, as a lot of dealing would be done through them. Hence, there are some Affluence Shares Sub Broker Offers provided in order to encourage the respective sub brokers.
Offers
Zero Deposit
No
10k Initial Deposit
No
Flexible Revenue Sharing
Yes
Flat Revenue Sharing
No
Zero Revenue Sharing with Prepaid
No
Since, the referral program is not actually a program, and filled with full benefits for the account holders. It is excluded from the offers list. The mere offer provided is of flexible revenue sharing models, where any amount form the given range can be provided.
---
Check out other companies Sub Broker Offers
---
Affluence Shares Franchise Support
A support never goes out of the success's way, and this company tries its best to support the sub brokers, who wish to work for them. Similarly, the Affluence Shares Franchise Support services are as following.
Support
Marketing Support
Yes
Back-Office Support
Yes
Trading Support
No
Advisory Support
No
Dealing Training
Yes
Acquisition Training
No
Product Training
No
There are many kind of support options the company could have provided, but it choose to provide only 3 of them. These three are however, the most important aspects and would significantly contribute to the sub brokers. They are marketing, back office and lastly dealing training.
---
Affluence Shares Authorised Person – Brokerage Charges to Clients
Go for a single asset class or a bunch of assets classes and invest in them. You will have to pay Affluence Shares Brokerage Charges on all of them, irrespective of the number of investment options you went for. Here are the charges of all the asset classes.
Brokerage Charges to Clients
Equity Delivery
0.25%
Equity Intraday
0.02%
Equity Futures
0.02%
Equity Options
Rs.10 per Lot
Currency Futures
0.03%
Currency Options
Rs.10 per Lot
Commodity
0.04%
The assets classes which have the similar set of charges are Equity Options and Currency Options of charge Rs.10 per Lot. Other couple of similar charges assets are Equity Intraday and Equity Futures of 0.02%. Remaining charges are Equity Delivery of 0.25%, currency futures of 0.03% and commodity of 0.04%.
---
Affluence Shares Partner – Account Opening Charges to Clients
Opening an account with this broker house is quite feasible as the technology assistance of the company is remarkable and also the Affluence Shares Account Opening Charges are economic. Also, the average money to maintain the account is only Rs.1,000, all time low.
Account Opening Charges to Clients
Demat AMC
Percentage of Transaction
Trading AMC
Rs.399 per Annum
Account Opening Charges
Rs.250
Transaction Charges
0.00250%
Margin Money
Minimum Rs.1,000
Open an account with a small payment of Rs.250. the further charge obligation will turn to the AMC, where the demat AMC is Percentage of Transaction and trading AMC is Rs.399 per Annum. Further, the transaction charge imposed will be at the rate of 0.00250%.
---
Benefits of Affluence Shares Partner Program
Read on the following pointers, to have a quick idea of how you shall be benefited if you choose to open an account with the company or on the contrary opt for the sub broker business model.
Support services provided by the company facilitate quick execution of the some quality trade and operations.
Customers would be quite happy to find the company actually imposes a lesser percentage of brokerage charges on them as compared to some other reputed broking houses.
Referral program is a source of additional income for the account holders, without any investment required.
Flexible revenue sharing model provides the opportunity of investing more with the company and also by if the sub brokers are low on capital.
---
Become a Sub Broker with Affluence Shares – Just Fill up the form
---
Find detailed review of other Sub Broker Franchise
---
Important Articles