Collaborating options of Agroy Finance Sub Broker are provided by the company Agroy Finance, to facilitate the expansion of business. The role of Agroy Finance Franchise happens to be a widespread reach and also a much-defined touch with the increasing number of clients.
Summary
Top Business Model
Sub Broker
Revenue Sharing
55% – 70%
Security Deposit
Rs.50,000 – Rs.200,000
Become Sub Broker in
28 Days
Receive Payout in
40 Days
Founder
Tushar Agarwal
Established Year
1992
You will come across the options and offers provided to the business models. Options for you are unlimited, and scan up all of them here in this article. We tried to include as many aspects of the clients and the sub-brokers as we could, including the company overview.
---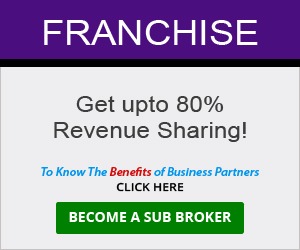 ---
Agroy Finance Franchise – Customer Ratings
Here is the lineup of the customer ratings as provided by the Agroy Finance Sub Broker and the customers, which is a sneak peek into the future performance expectancy of the firm.
Customer Ratings
Experience
2.5/5
Services
2.3/5
Products
2.4/5
Trading Platforms
2.3/5
Support
2.4/5
Revenue Sharing Model
2.5/5
Security Deposit
2.4/5
Offers
2.4/5
Market Share
2.1/5
Overall Ratings
2.3/5
Star Ratings
★★★☆☆
The scope of Agroy Finance Customer Rating includes pretty good growth if a remark is to be made. However, as of the present analysis, the growth is not enough, because the rating is an overall of 2.3 stars.
---
Overview of Agroy Finance Franchise / Sub Broker
Incorporated in the year 1992, Agroy Finance is one reputed name in the stock broking industry, which belongs to the category of a full-service broker. The Agroy Finance Franchise is a company's division, which renders business opportunities to its clients.
Agroy Finance Overview
Company Type
Public
Broker type
Full-Service Broker
Headquarters
New Delhi
Founder
Tushar Agarwal
Established Year
1992
SB Code Activation Time
28 Days
Payout Time
40 Days
For the contract to emerge successfully, the Sub Broker Code Activation Time is 28 days, whereas the Payout Time is 40 days. This company's business models are quite sought after and so are the financial services and products provided to the customers.
---
Become a Sub Broker with Agroy Finance – Just Fill up the form
---
Compare Sub Broker Franchise
vs
---
Agroy Finance Sub Broker – Business Models
The types of business models Agroy Finance got on board are two in number and are further discussed in brief. The following sub-topics are all about the models and their monetary representation. Make sure you take a look at them, to adhere to all of them.
Business Models
Master Franchise
No
Sub Broker
Yes
Remisier
Yes
Referral Program
No
The Agroy Finance Sub Broker Business Model and remisier model are the toe-provided business models, which are finely constructed.
---
Agroy Finance Sub Broker / Authorised Person Model
The feasibility of this model is that the entities will be able to avail of a fully constructed business model, ready to be invested in. The concerned entity will be able to sell products and services of the company, under its trademark and in return, retain a greater portion of the profit.
Agroy Finance Remisier Model
This model is for individual enthusiasts, who wish to establish themselves as the company's agents and will be given a small amount of commission. They would not be allowed for the direct sale of goods, and services, but rather fetching in effective leads.
---
Agroy Finance Sub broker Commission / Revenue Sharing
The Agroy Finance Franchise Revenue Sharing Model is quite defined and fixed. The model is distinctive for both business models. While the sub-broker is entitled to a greater share in revenue, a remisier is entitled to a lower one, and it is justifiably abased by the activities undertaken.
Revenue Sharing
Master Franchise
NA
Sub Broker
55% – 70%
Remisier
15%
Referral Program
NA
Profit marked with the model is fair enough where the sub-broker model pays a profit that ranges between 55% – 70%. On the other hand, the remisier is given a fixed rate of profit, also known as the commission, where he has a right of 15% share.
---
Check out Revenue Sharing of other Sub Brokers
---
Agroy Finance Franchise Cost / Security Deposit
A security deposit is necessary and crucial, however, what is not crucial is a rigid deposit system as in the Agroy Finance Franchise Cost for the sub-broker model. But, the remisier model is fixed, and the money mentioned has to be paid for.
Security Deposit
Master Franchise
NA
Sub Broker
Rs.50,000 – Rs.200,000
Remisier
Rs.10,000
Referral Program
NA
The fixed and rigid payment system of the remisier model is Rs.10,000. The sub broker model depends and the applicants can pay anywhere near Rs.50,000 – Rs.200,000. However, what is to be known is that if you make a greater contribution as a deposit, you will also earn a greater percentage in revenue.
---
Here are Security Deposit info of other Stock Broking Franchise
---
Agroy Finance Partner Infrastructure Requirement
Agroy Finance Infrastructure Requirement is a general criterion which got to be fulfilled by the sub-brokers, and this is general to have a functional establishment. Also, there are additional eligibility criteria the company needs the sub-brokers to have.
Infrastructure Requirement
Office Area
Minimum 100 Sq Ft
Employee Strength
Not Mandatory
Research Services
Yes
Internet Connection
Yes
Trading Terminals
No
Telephone Lines
No
Speaking of employee strength terms, it is not mandatory, as stated by the company. although, what is mandatory are the office are of Minimum 100 Sq Ft, research services, as well as high-speed working internet connection.
---
Agroy Finance Sub Broker Offers
Jolting down the Agroy Finance Sub Broker Offers, the company has indeed a couple of offers to present to the two well-known business models it provides.
Offers
Zero Deposit
No
10k Initial Deposit
Yes
Flexible Revenue Sharing
Yes
Flat Revenue Sharing
No
Zero Revenue Sharing with Prepaid
No
As per the business models provided, the sub broker offers are classified by the broker houses. As Agroy Finance provides both remisier and sub broker models, it provides two offers facilitating better operations. 10k initial deposit is for the remisier and flexible revenue sharing for the sub broker.
---
Check out other companies Sub Broker Offers
---
Agroy Finance Franchise Support
It takes time to get associated with the franchise business operations and for the process to get quicker, Agroy Finance Franchise Support is provided. A lot of aspects are covered through the support system, and here is what you can expect.
Support
Marketing Support
Yes
Back-Office Support
Yes
Trading Support
Yes
Advisory Support
No
Dealing Training
No
Acquisition Training
No
Product Training
No
A support system binds the broking house with its sub brokers, where a personified relationship can as well be established. You can opt for the sub-broker model of the company and you will receive support in terms of marketing, back office as well as trading.
---
Agroy Finance Authorised Person – Brokerage Charges to Clients
For equity delivery or any other asset classes, the clients who avail of the various instruments offered by the company will have to pay the Agroy Finance Brokerage Charges for all of them. Here are the assets classes you can stick to invest with, and the percentage brokerage attached to them.
Brokerage Charges to Clients
Equity Delivery
0.33%
Equity Intraday
0.03%
Equity Futures
0.03%
Equity Options
Rs.33 per Lot
Currency Futures
0.03%
Currency Options
Rs.33 per Lot
Commodity
0.03%
The brokerage charges are firstly low, and secondly, they are closely related to all the asset classes. Here are the charges in brief:
The bunch instruments that have the same brokerage charge of 0.03% are the Equity Intraday, Equity Futures, Currency Futures, and Commodity.
The next couple of instruments with the same charge of Rs.33 per Lot are the Equity Options and the Currency Options.
Finally, the Equity Delivery is set to be in the percentage of 0.33%.
---
Agroy Finance Partner – Account Opening Charges to Clients
Start your personal account with the company easily online, by paying Agroy Finance Account Opening Charges, accounted to Rs.230. Secondly, the minimum balance to maintain in an account at all times is set to be a low amount of Rs.5,000.
Account Opening Charges to Clients
Demat AMC
Percentage of Transaction
Trading AMC
Rs.333 per Annum
Account Opening Charges
Rs.230
Transaction Charges
0.00300%
Margin Money
Minimum Rs.5,000
Another set of charges similar to the account opening charges to be incurred is the AMC. AMC for the demat account is Percentage of Transaction, whereas the AMC for the trading account is Rs.333 per Annum. The final charges to be paid are the transactional charge of 0.00300%.
---
Benefits of Agroy Finance Partner Program
Partnership or financial host, you will be able to make a lot of benefits from this stock broking company Agroy Finance. Brace yourself with prior knowledge of the benefits, so you can avail of them.
Identified benefits for the clients are lower, rather than economic brokerage charges, aimed to make the plans absolutely customer-centric.
The account opening charge as well as economical making it easy on the customers, where they will be obligated to pay a rather lower charge.
A worthy and beneficial support system is offered by the stock broking house.
Though the remisier model of business has a fixed commission scheme, the revenue model is however flexible for the sub-brokers.
---
Become a Sub Broker with Agroy Finance – Just Fill up the form
---
Find detailed review of other Sub Broker Franchise
---
Important Articles