Construction of a fully efficient stock broking house is done by Manish Kishore Ajmera , who garners everything o high quality to be put together including the Ajmera Associates Sub Broker. The Ajmera Associates Franchise options are availed all across the nation, to spread business ideas and also quality services.
Summary
Top Business Model
Sub Broker
Revenue Sharing
50% – 70%
Security Deposit
Rs.50,000 – Rs.100,000
Become Sub Broker in
20 Days
Receive Payout in
35 Days
Founder
Manish Kishore Ajmera
Established Year
2001
Here, knowledge of all the services and business ideas established by Ajmera Associates. We have tried to cover almost everything which would be sufficient for you to know if this company is a worthwhile investment, in terms of business ideas and also clients.
---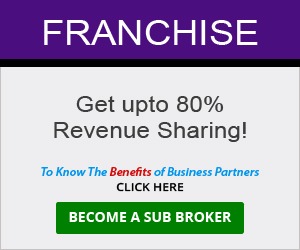 ---
Ajmera Associates Franchise – Customer Ratings
We are ringing up the bells of Ajmera Associates Sub Broker rating and the client rating, as they have become power insight options.
Customer Ratings
Experience
2.7/5
Services
2.6/5
Products
2.7/5
Trading Platforms
2.6/5
Support
2.6/5
Revenue Sharing Model
2.4/5
Security Deposit
2.7/5
Offers
2.6/5
Market Share
2.5/5
Overall Ratings
2.6/5
Star Ratings
★★★☆☆
Pointing and indicating the overall Ajmera Associates Customer Rating, the company stands at a rating of 2.6, almost on an average basis. This indicates there is scope for future growth, and also it is able to serve the sub-brokers and the clients effectively.
---
Overview of Ajmera Associates Franchise / Sub Broker
The company has been doing its best, to be an established stock broking firm the clients can rely upon. The attempt is on through the Ajmera Associates Franchise, the structure of which is carefully crafted under the supervision of its founder Manish Kishore Ajmera.
Ajmera Associates Overview
Company Type
Public
Broker type
Full Service Broker
Headquarters
Mumbai
Founder
Manish Kishore Ajmera
Established Year
2001
SB Code Activation Time
20 Days
Payout Time
35 Days
Speaking of the most demanded business model sub-broker, the Sub Broker Code Activation Time of the same is 20 days, while its Payout Time is 35 days. Belonging to the public domain, this company renders and fulfills the need for financial solutions, end to end, as it is a full-service broker.
---
Become a Sub Broker with Ajmera Associates – Just Fill up the form
---
Compare Sub Broker Franchise
vs
---
Ajmera Associates Sub Broker – Business Models
You will find two of the most popular business models of all time, with this company. They have their own set of perks, and all of them are briefly mentioned below. Make sure you read them all.
Business Models
Master Franchise
Yes
Sub Broker
Yes
Remisier
No
Referral Program
No
The first model is the master franchise model, whereas the second model is the Ajmera Associates Sub Broker Business Model.
---
Ajmera Associates Master Franchise Model
Here, the responsibility rendered would be of greater scale, as the regulating and carrying out of franchise activities of a territory are delegated. Hence, the returns made from such a model are as well high.
Ajmera Associates Sub Broker / Authorised Person Model
This is directed to the entities who wish to invest in the franchise business. They will be allowed to sell the products and services of Ajmera Associates, under their trademark. They will also be given a proportionately higher amount of revenue to retain.
---
Ajmera Associates Sub broker Commission / Revenue Sharing
Making a pretty handsome return is possible from the Ajmera Associates Franchise Revenue Sharing Model. The model is brilliantly constructed as per the delegate job and the security amount deposited. You may find the master franchise model has higher revenue, and it is because of the scale of undertaken operations.
Revenue Sharing
Master Franchise
70% – 80%
Sub Broker
50% – 70%
Remisier
NA
Referral Program
NA
Ones, who opt for the master franchise model, will get a revenue percentage that ranges between 70% – 80%. However, the sub-brokers who choose to get associated with this company will be entitled to an amount that ranges between 50% – 70%.
---
Check out Revenue Sharing of other Sub Brokers
---
Ajmera Associates Franchise Cost / Security Deposit
Make a higher contribution or in other, words high Ajmera Associates Franchise Cost, and the possible returns will increase as well. Security costs for both the provided business models range as well, and the master franchise requires a higher contribution as compared to the sub-broker model.
Security Deposit
Master Franchise
Rs.200,000 – Rs.500,000
Sub Broker
Rs.50,000 – Rs.100,000
Remisier
NA
Referral Program
NA
As drafted above, the greater share of security deposit asked for the master franchise model ranges between Rs.200,000 – Rs.500,000, while the sub-brokers would have to make a contribution which ranges between the amounts of Rs.50,000 – Rs.100,000.
---
Here are Security Deposit info of other Stock Broking Franchise
---
Ajmera Associates Partner Infrastructure Requirement
If you fulfill the below-mentioned Ajmera Associates Infrastructure Requirement, you will be considered eligible to invest with the firm, for both models. Make sure you meet all the requirements.
Infrastructure Requirement
Office Area
Minimum 200 Sq Ft
Employee Strength
Minimum 2
Research Services
Yes
Internet Connection
Yes
Trading Terminals
Yes
Telephone Lines
Yes
So, the requirements of the models are vast as the table speaks. The first requirement is an office area of a Minimum of 200 Sq Ft, followed by an employee strength of a minimum of 2. The remaining requirements are research services, internet connection, trading terminals, and telephone lines.
---
Ajmera Associates Sub Broker Offers
Ajmera Associates Sub Broker Offers are an encouragement and also an option for everyone to invest with the stock broking house and earn a pretty good return. Here are the two offers provided.
Offers
Zero Deposit
No
10k Initial Deposit
No
Flexible Revenue Sharing
Yes
Flat Revenue Sharing
No
Zero Revenue Sharing with Prepaid
Yes
So, the initial offer which we already know of is flexible revenue sharing, it is an offer because the percentage is determined by the security deposit. So, a smaller deposit will as well suffice. The next offer is zero revenue sharing with prepaid.
---
Check out other companies Sub Broker Offers
---
Ajmera Associates Franchise Support
The support of the franchiser can have a simultaneously greater impact on the sub brokers and other business models. Ajmera Associates Franchise Support is assuredly provided, so the franchisees can be benefited from it, highly.
Support
Marketing Support
No
Back-Office Support
Yes
Trading Support
No
Advisory Support
Yes
Dealing Training
No
Acquisition Training
No
Product Training
Yes
Support services can be extended to all aspects, but the major of them are covered by this stock broking house. They are back office support, and advisory support. Product training is as well provided to the employees of sub-brokers, so the exact knowledge of the product is retained.
---
Ajmera Associates Authorised Person – Brokerage Charges to Clients
Reliability is a great phenomenon and you can rely upon financial instruments to provide you handsome returns. However, they are all tagged with the Ajmera Associates Brokerage Charges. They are not avoidable and have to be paid.
Brokerage Charges to Clients
Equity Delivery
0.50%
Equity Intraday
0.05%
Equity Futures
0.05%
Equity Options
Rs.50 per Lot
Currency Futures
0.05%
Currency Options
Rs.25 per Lot
Commodity
0.05%
The Equity Intraday, Equity Futures, Currency Futures, and Commodities are the ones that have a similar brokerage ratio of 0.05%. The equity delivery however has a charge of 0.50%. the different sets of investment instruments, i.e. the Equity Options and Currency Options have a charge of Rs.50 per Lot and Rs.25 per Lot.
---
Ajmera Associates Partner – Account Opening Charges to Clients
Commence your trading activity with this company, with an Ajmera Associates Account Opening Charges payment which accounts for Rs.330. Also, the minimum amount of balance you need to have in your account at all times is Rs.10,000, quite above the common economic threshold.
Account Opening Charges to Clients
Demat AMC
Percentage of Transaction
Trading AMC
Free
Account Opening Charges
Rs.330
Transaction Charges
0.00325%
Margin Money
Minimum Rs.10,000
Indicating the further charges you will be meant to pay while carrying the trading activities is the AMC for demat and trading account. The demat account holders have to pay a Percentage of Transactions, while trading account holders are excluded from any kind of payments. Also, a transaction charge goes along, which is 0.00325%.
---
Benefits of Ajmera Associates Partner Program
Clients and sub-brokers generally happen to focus on the benefits the stock broking house provides, and this is quite justified. Check out the benefits you will encounter with this stock broking company.
Clients who own a trading account with the company are not obligated to pay a maintenance fee every year, so they can enjoy a lifetime of free AMC.
Brokerage charges are as well low with the company which lets them make slightly a greater proportion of profit at the end.
Support systems are the stepping stones Ajmera Associates build for their sub-brokers to climb easily and readily.
The revenue sharing model ranges, i.e. it is flexible, and also a greater percentage is provided as compared to the other broking houses.
---
Become a Sub Broker with Ajmera Associates – Just Fill up the form
---
Find detailed review of other Sub Broker Franchise
---
Important Articles