Full stack of financial solutions can be found with this company which has been in the industry since 1995. The widespread Aldan Investments Sub Broker services speak for it. The Aldan Investments Franchise services are further being expanded all across the country.
Summary
Top Business Model
Sub Broker
Revenue Sharing
60% – 75%
Security Deposit
Rs.50,000 – Rs.150,000
Become Sub Broker in
30 Days
Receive Payout in
40 Days
Founder
Hemal Chandravadan Choksey
Established Year
1995
We hope to have you well provided with the information on this stock broking house. And so, we have put together every possible thing you might want to come across, relating to the franchise business models and also the client's overviews.
---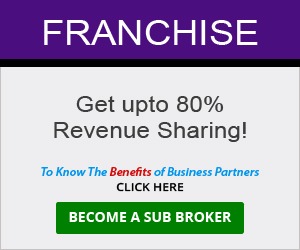 ---
Aldan Investments Franchise – Customer Ratings
Customer ratings nowadays have a special weightage, which is seriously considered by a lot of people considering one choice from many. Here is the Aldan Investments Sub Broker rating, if you seek the same.
Customer Ratings
Experience
2.6/5
Services
2.3/5
Products
2.6/5
Trading Platforms
2.5/5
Support
2.7/5
Revenue Sharing Model
2.3/5
Security Deposit
2.4/5
Offers
2.6/5
Market Share
2.4/5
Overall Ratings
2.5/5
Star Ratings
★★★☆☆
The table has not only the sub-broker rating but also the Customer Aldan Investments Customer Rating. The total, as in the overall rating granted for the company is 2.5 stars, which is considered average as per industry rating.
---
Overview of Aldan Investments Franchise / Sub Broker
This broking house has been maintaining order in all ways possible, while also rending great products and services to the nation through the Aldan Investments Franchise models as well. The year of incorporation was 1995, and so, they have a great deal of experience under their hood.
Aldan Investments Overview
Company Type
Private
Broker type
Full Service Broker
Headquarters
Mumbai
Founder
Hemal Chandravadan Choksey
Established Year
1995
SB Code Activation Time
30 Days
Payout Time
40 Days
A minimum of 30 days as Sub Broker Code Activation Time and also 40 days of Payout Time has to be catered by the aspiring sub brokers of the house. Amendments can be made further, as per the time duration. As the company is a full-service broker, one will find all the possible financial solutions with them.
---
Become a Sub Broker with Aldan Investments – Just Fill up the form
---
Compare Sub Broker Franchise
vs
---
Aldan Investments Sub Broker – Business Models
Everything has its own set of perks, and like the company which has a lot of business models to offer is great in terms of choosing, and so is the company providing one model great. It is because the company has all its focus on one model.
Business Models
Master Franchise
No
Sub Broker
Yes
Remisier
No
Referral Program
No
Aldan Investments Sub Broker Business Model is the first, and also the only model provided by Aldan investments. Check out how the model works.
---
Aldan Investments Sub Broker / Authorised Person Model
This model is crafted for the benefit of small entities and individuals. Anyone can become a sub-broker if they fulfill the criteria mentioned. They will have the right to deal in the franchiser's products and services and also retain a fair share of the revenue from them.
---
Aldan Investments Sub broker Commission / Revenue Sharing
Aldan Investments Franchise Revenue Sharing Model is drafted in a percentage range, which means if you yearn to have a proportionately greater revenue share for yourself, you will have to invest in a greater amount of security deposit.
Revenue Sharing
Master Franchise
NA
Sub Broker
60% – 75%
Remisier
NA
Referral Program
NA
It is a perk, definitely, as the percentage ranges and is not constant or rigid on the other hand. The assured percentage of profit entitlement is 60%, and based on the security deposit you make, it may go up to an amount of say 75%.
---
Check out Revenue Sharing of other Sub Brokers
---
Aldan Investments Franchise Cost / Security Deposit
If you wish to be all good for carrying on with the business plans of the company, you will have to make a security deposit. In rightful terms, the security deposit is termed as Aldan Investments Franchise Cost, and each of the broking companies has its personal demand.
Security Deposit
Master Franchise
NA
Sub Broker
Rs.50,000 – Rs.150,000
Remisier
NA
Referral Program
NA
As the company provides the sub broker model solely, the table is focused only on it. You can make a deposit of Rs.50,000 or you may even go up to Rs.150,000. The choice is yours and you will be good in either of the cases, and it has an effect on the revenue-sharing model as well.
---
Here are Security Deposit info of other Stock Broking Franchise
---
Aldan Investments Partner Infrastructure Requirement
You might be assuming the obvious for the Aldan Investments Infrastructure Requirement, but the fact is, for this stock broking house, you are not imposed with any kind of mandatory office requirement. Also, employee strength is as well not mandatory.
Infrastructure Requirement
Office Area
Not Mandatory
Employee Strength
Not Mandatory
Research Services
No
Internet Connection
Yes
Trading Terminals
Yes
Telephone Lines
Yes
Make sure you have a good working internet deal opted and deployed in the office, alongside services of trading, as in trading terminals. Also, ensure you deploy in telephone lines, and then shall you be termed as an eligible candidate to avail for a franchise business.
---
Aldan Investments Sub Broker Offers
Take on the quest of knowing all the details of sub-brokership. This must include the knowledge of the Aldan Investments Sub Broker Offers, and they are provided below.
Offers
Zero Deposit
No
10k Initial Deposit
Yes
Flexible Revenue Sharing
Yes
Flat Revenue Sharing
No
Zero Revenue Sharing with Prepaid
No
Sub brokers can count on the company, as it provides two great options. They are the 10k initial deposit and also a flexible revenue-sharing model as mentioned already.
---
Check out other companies Sub Broker Offers
---
Aldan Investments Franchise Support
Yes, the responsibility of fetching business deals and the increased number of clients are on the sub-brokers, but the foundation of quality services provided can be laid by the franchiser. The foundation here is laid through, Aldan Investments Franchise Support.
Support
Marketing Support
Yes
Back-Office Support
Yes
Trading Support
Yes
Advisory Support
Yes
Dealing Training
Yes
Acquisition Training
No
Product Training
Yes
A pretty good foundation is laid by the company, not giving a path of confusion regarding where and how to start the franchise business. The services provided particularly be named are marketing, back office, trading, and advisory. Training for dealing and product is as well rendered.
---
Aldan Investments Authorised Person – Brokerage Charges to Clients
Services are provided to the customers, and all kinds of financial instruments are made available to the firm. In turn, the broking house asks for a brokerage for all the investments. Check out the table for Aldan Investments Brokerage Charges.
Brokerage Charges to Clients
Equity Delivery
0.1% – 0.2%
Equity Intraday
0.01% – 0.02%
Equity Futures
0.01% – 0.02%
Equity Options
Rs.10 – Rs.20 per Lot
Currency Futures
0.01% – 0.02%
Currency Options
Rs.7 – Rs.10 per Lot
Commodity
0.01% – 0.02%
Heavy returns made or steady returns made, one will have to pay amount of brokerage charges as mentioned. The charges however range and aren't fixed.
01% – 0.02% charges are applicable for four asset classes, Equity Intraday, Equity Futures, Currency Futures, and Commodity.
Equity delivery charges are at 0.1% – 0.2%
The company designed the Equity Options and Currency Options charges of Rs.10 – Rs.20 per Lot and Rs.7 – Rs.10 per Lot.
---
Aldan Investments Partner – Account Opening Charges to Clients
Clients associated with this company are well aware of the Aldan Investments Account Opening Charges. However, the new aspirants as well can be at ease for the account can be opened, absolutely free of charge.
Account Opening Charges to Clients
Demat AMC
Percentage of Transaction
Trading AMC
Rs.333 per Annum
Account Opening Charges
Zero
Transaction Charges
0.00333%
Margin Money
Zero Margin
Feasibility in terms of account usage is provided by the firm, as there is no applicable margin to be maintained at regular intervals. While the other charges are,
Demat AMC of Percentage of Transaction.
Likewise, trading AMC of Rs.333 per Annum.
Finally, the charges end at transaction charges of 0.00333%.
---
Benefits of Aldan Investments Partner Program
Better ties with the company can be emerged on account of benefits provided to the sub-brokers and also the customer. It is because the company knows how to satisfy them.
Focusing on the clients' scenarios, the account opening charges are absolutely free, plus, the margin focus is nonexistent, as they need no account maintenance.
Brokerage charges are firstly low, and then they are given in a range, which means they are customizable as per the client's need.
Brokers can rely upon the company for support and help, as the company provides almost all support services.
Revenue sharing model and security deposit ranges, which means they are highly flexible.
---
Become a Sub Broker with Aldan Investments – Just Fill up the form
---
Find detailed review of other Sub Broker Franchise
---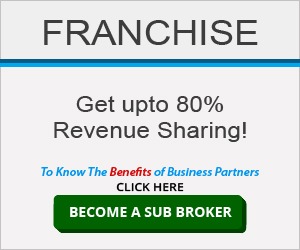 Important Articles