Opting to go for a firm that is well led by a visionary leader is an assurance in itself. Ashok Jivraj Chheda has constructed a fine structure of management through AMU Shares Sub Broker endorsed by the AMU Shares Franchise programs, which aims at expansion and also personalized customer experience.
Summary
Top Business Model
Sub Broker
Revenue Sharing
60% – 75%
Security Deposit
Rs.50,000 – Rs.100,000
Become Sub Broker in
21 Days
Receive Payout in
31 Days
Founder
Ashok Jivraj Chheda
Established Year
1994
Irrespective of how much you juggle all the articles on the web trying to find what should be known, in order to become a sub-broker with this company, something would always be left out. Here is making your task easy, where one place will provide you with all the information about this company's business model.
---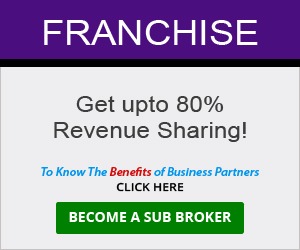 ---
AMU Shares Franchise – Customer Ratings
Investment cannot be done without a good amount of study and research wherein the customers and the AMU Shares Sub Broker will be willing to go for a particular company. They often wish to go for an establishment that is well-rated.
Customer Ratings
Experience
2.7/5
Services
2.3/5
Products
2.4/5
Trading Platforms
2.3/5
Support
2.4/5
Revenue Sharing Model
2.5/5
Security Deposit
2.5/5
Offers
2.6/5
Market Share
2.3/5
Overall Ratings
2.5/5
Star Ratings
★★★☆☆
Taking the AMU Shares Customer Rating into account, for all the aspects of the company, this company is on an average basis, where the overall star rating is fixed at 2.5 stars. Sub-brokers and clients can check out the rating as they may please, for the aspects they want to check.
---
Overview of AMU Shares Franchise / Sub Broker
Reputed establishments have a well-defined structure of management and operations, and AMU Shares as well have a perfect structure for AMU Shares Franchise. This company belongs to the public sector and was set up by Ashok Jivraj Chheda in the year 1994.
AMU Shares Overview
Company Type
Public
Broker type
Full Service Broker
Headquarters
Mumbai
Founder
Ashok Jivraj Chheda
Established Year
1994
SB Code Activation Time
21 Days
Payout Time
31 Days
You would be drawn by the experience this company contains, which is of more than two decades. However, it provides a standing Sub Broker Code Activation Time of 21 days, whereas the Payout Time is set to 31 days. The headquarters of the company is set up in Mumbai.
---
Become a Sub Broker with AMU Shares – Just Fill up the form
---
Compare Sub Broker Franchise
vs
---
AMU Shares Sub Broker – Business Models
You might be drawn towards a lot of business models providing companies, and this company has only one provided model, which has its own set of perks. The structure is well set as the company has its focus on this sole business model.
Business Models
Master Franchise
No
Sub Broker
Yes
Remisier
No
Referral Program
No
The only business model provided by this stock broking company is the AMU Shares Sub Broker Business Model.
---
AMU Shares Sub Broker / Authorised Person Model
Sub brokers or authorized persons or the business entities who offer to undertake the sales arena of the franchiser. They sell the franchiser's goods and products under its trademark and in turn earn a percentage of revenue, which is proportionately higher.
---
AMU Shares Sub broker Commission / Revenue Sharing
Revenue is the sole purpose of doing business, and hence, if you wish to make it into the franchise business, you need to know how much return you can earn from the company. Here is the data on the AMU Shares Franchise Revenue Sharing Model.
Revenue Sharing
Master Franchise
NA
Sub Broker
60% – 75%
Remisier
NA
Referral Program
NA
So, investing in the sub-broker model presented by this company will earn you higher than half a share. The minimum entitlement is 60%, whereas the maximum percentage you can make is 75%. The security model is the final determinant of the end revenue-sharing percentage.
---
Check out Revenue Sharing of other Sub Brokers
---
AMU Shares Franchise Cost / Security Deposit
As mentioned earlier, the revenue percentage you share depends upon the AMU Shares Franchise Cost, i.e. the security deposit. However, they have the same relation between them, i.e. if the deposit made is high, the revenue earned will be higher too.
Security Deposit
Master Franchise
NA
Sub Broker
Rs.50,000 – Rs.100,000
Remisier
NA
Referral Program
NA
The minimum and maximum amount of contribution to be made is mentioned and the sub-broker needs to pay the same amount or anything within it. Sub broker can pay a minimum of Rs.50,000 and the limit is extended to Rs.100,000 which also takes the revenue percentage higher.
---
Here are Security Deposit info of other Stock Broking Franchise
---
AMU Shares Partner Infrastructure Requirement
After the security deposit criteria are sorted, you need to focus on the AMU Shares Infrastructure Requirement, and the tagged other requirements if you are to apply for the sub-broker model and also wish to qualify as an eligible candidate.
Infrastructure Requirement
Office Area
Minimum 100 Sq Ft
Employee Strength
Not Mandatory
Research Services
Yes
Internet Connection
Yes
Trading Terminals
No
Telephone Lines
Yes
The requirements start with an office area of a Minimum of 100 Sq Ft, then employee strength is not mandatory, however. But, the sub-broker has to provide the research services, followed by having a high-speed working internet connection and telephone pines.
---
AMU Shares Sub Broker Offers
A contract of a business model comprises a lot of elements, one such element is the offers provided by the franchiser to the franchisee. Here is the read-up of the AMU Shares Sub Broker Offers.
Offers
Zero Deposit
Yes
10k Initial Deposit
No
Flexible Revenue Sharing
Yes
Flat Revenue Sharing
No
Zero Revenue Sharing with Prepaid
No
The business model provided is only one, which is sub broker model, however, the offers provided from the company's end are two. The first offer is zero deposit and then the company provides a flexible revenue-sharing model.
---
Check out other companies Sub Broker Offers
---
AMU Shares Franchise Support
Broking houses which provide franchise models also ensure to support their franchisees in some way or the other. The kind of support expected from this company is limited to only three services. The AMU Shares Franchise Support is as follows.
Support
Marketing Support
No
Back-Office Support
Yes
Trading Support
No
Advisory Support
Yes
Dealing Training
Yes
Acquisition Training
No
Product Training
No
Support services that the company focuses upon and provides to its sub brokers for better operations are back office and advisory support. The company also provides dealing training, which focuses on the rightful ways of earning more clients.
---
AMU Shares Authorised Person – Brokerage Charges to Clients
Investments you wish to make would determine the number of returns you manage to make, but they are all subject to common AMU Shares Brokerage Charges. Such charges are unavoidable and have to be paid as directed by the stock broking houses.
Brokerage Charges to Clients
Equity Delivery
0.1% – 0.2%
Equity Intraday
0.01% – 0.02%
Equity Futures
0.01% – 0.02%
Equity Options
Rs.10 – Rs.20 per Lot
Currency Futures
0.01% – 0.02%
Currency Options
Rs.10 – Rs.20 per Lot
Commodity
0.01% – 0.02%
The choice of investment in the financial instruments depends upon you and if you choose one from Equity Intraday, Equity Futures, Currency Futures, and commodity, you will be asked to pay a brokerage charge of 0.01% – 0.02%.
The equity delivery charge is 0.1% – 0.2%, whereas the Equity Options and Currency Options charge is Rs.10 – Rs.20 per Lot, each.
---
AMU Shares Partner – Account Opening Charges to Clients
If you wish to invest with this firm, you need open an account and that requires you to pay AMU Shares Account Opening Charges. However, the charges are average as per the industry norms and standards, as it is an amount of Rs.300.
Account Opening Charges to Clients
Demat AMC
Percentage of Transaction
Trading AMC
Free
Account Opening Charges
Rs.300
Transaction Charges
0.00325%
Margin Money
Minimum Rs.3,000
Ensure you maintain a margin money balance of Rs.3,000 at all times and make due payments as demanded. So, the payment you will be demanded is a transaction charge of 0.00325%, demat AMC of Percentage of Transaction and trading AMC is however free.
---
Benefits of AMU Shares Partner Program
The expectancy limit is high for each of the stock broking houses, as is the competition in the market. Benefits are one of the decision-making criteria chosen for the decision-making.
The first part of the client-related charges which can be considered as the benefit is the trading AMC. It is one of the major aspects as the service is provided for free for a lifetime.
Brokerage charges are as well as minimal as they can be, thereby deducting the expenses to be borne by the clients.
The security deposit required is low in comparison with other stock broking houses.
A flexible revenue-sharing model is another benefit provided by this firm, but so is it commonly found in other houses as well.
---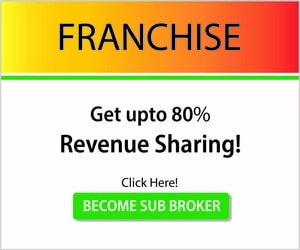 ---
Become a Sub Broker with AMU Shares – Just Fill up the form
---
Find detailed review of other Sub Broker Franchise
---
Important Articles