Availing for a stock broker has to be done carefully, as each of the investments made with it counts. Investing as the Anant Investments Sub Broker also needs to be done with caution, keeping in check all the aspects of the Anant Investments Franchise models.
Summary
Top Business Model
Sub Broker
Revenue Sharing
60% – 75%
Security Deposit
Rs.50,000 – Rs.150,000
Become Sub Broker in
30 Days
Receive Payout in
35 Days
Founder
Vijaykumar Sujanmal Kotadia
Established Year
2007
This article shall serve you well for the information you are in dire need of. We have constructed this article, full of every inch of detail which is required to get into a franchise business contract with it.
You will learn all the challenges and criteria you need to fulfill and, clients will also find the charges they will have to pay for availing of the services.
---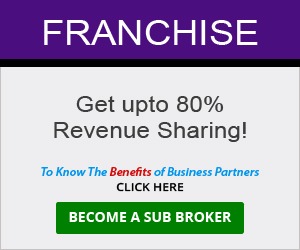 ---
Anant Investments Franchise – Customer Ratings
Let us get straight to the ratings of the Anant Investments Sub Broker, and the client's experience. This shows how efficient the company is and how well it managed to sort out all the things which matter for the sub-brokers and also the clients.
Customer Ratings
Experience
3.10 / 5
Services
3.30 / 5
Products
3.10 / 5
Trading Platforms
2.90 / 5
Support
3.10 / 5
Revenue Sharing Model
3.00 / 5
Security Deposit
2.80 / 5
Offers
2.90 / 5
Market Share
3.10 / 5
Overall Ratings
3.03 / 5
Star Ratings
★★★☆☆
We have basically included all the aspects of the company and each of the same has its Anant Investments Customer Rating beside it. Refer to them on individual terms in the table given above, while we mentioned the overall rating of 3.03 stars, which is more than what other companies managed to earn.
---
Overview of Anant Investments Franchise / Sub Broker
An efficient stock broking firm is one which has everything sorted and this company is a master in the arena. It is well known, its Anant Investments Franchise models are well in demand and all the credits are to be directed towards its founder, Vijaykumar Sujanmal Kotadia.
Anant Investments Overview
Company Type
Private
Broker type
Full Service Broker
Headquarters
Mumbai
Founder
Vijaykumar Sujanmal Kotadia
Established Year
2007
SB Code Activation Time
30 Days
Payout Time
35 Days
So, while we mention the years of experience which took the turn of transformation, into this eminent house, let us also mention the sub broker code standing time. This company has a Sub Broker Code Activation Time of 30 days, while its Payout Time is 35 days.
---
Become a Sub Broker with Anant Investments – Just Fill up the form
---
Compare Sub Broker Franchise
vs
---
Anant Investments Sub Broker – Business Models
One business model is provided by this firm, and it focuses highly on this one model. Therefore, you will find an abundance of benefits and support stuffed into this sole business model. Read the further context to know how the model works.
Business Models
Master Franchise
No
Sub Broker
Yes
Remisier
No
Referral Program
No
The straight answer for the business model provision is the Anant Investments Sub Broker Business Model, and Anant Investments provides no other models.
---
Anant Investments Sub Broker / Authorised Person Model
Individuals and entities can opt for this business model, which will basically add to the sales of the company's products and services. The sub-broker will wander under the trademark of this organization and thereby increase the customer base of the franchiser.
---
Anant Investments Sub broker Commission / Revenue Sharing
Kickstarting with the return plans of the firm, we have the Anant Investments Franchise Revenue Sharing Model, to make you will be accustomed to the likely percentage of revenue. So, here is what you shall be entitled to, and it is more than equal parts.
Revenue Sharing
Master Franchise
NA
Sub Broker
60% – 75%
Remisier
NA
Referral Program
NA
So, as the company provides only the sub broker models of business, the table contains only the percentage share of sub-brokers. The least assured percentage share is 60%, while the other houses mostly provide 50%. The maximum extent however is up to 75%.
---
Check out Revenue Sharing of other Sub Brokers
---
Anant Investments Franchise Cost / Security Deposit
The first requirement and also the eligibility criteria is the Anant Investments Franchise Cost to be provided to the stock broking house. It ranges, and in other words is flexible enough. You can make any amount of payment from the given percentage, but it will have an effect on the revenue percentage earned.
Security Deposit
Master Franchise
NA
Sub Broker
Rs.50,000 – Rs.150,000
Remisier
NA
Referral Program
NA
So, the percentage within which you can make the contribution is Rs.50,000 – Rs.150,000. However, you need to know that if you make a lesser amount of contribution, you will be entitled to a lesser amount of revenue percentage, and vice versa.
---
Here are Security Deposit info of other Stock Broking Franchise
---
Anant Investments Partner Infrastructure Requirement
To carry out business, a lot of items, in context with the industry are required to be upheld. As per the stock broking industry and the individual franchiser's requirements, we have the below-mentioned items including the Anant Investments Infrastructure Requirement.
Infrastructure Requirement
Office Area
Minimum 150 Sq Ft
Employee Strength
Minimum 1
Research Services
No
Internet Connection
Yes
Trading Terminals
Yes
Telephone Lines
Yes
Office area of a Minimum of 150 Sq Ft is the first requirement, followed by a minimum of 1 employee strength. The further requirements go by high-speed internet connection, trading terminals, and telephone lines to be kept in the office premises.
---
Anant Investments Sub Broker Offers
Here is the set of, Anant Investments Sub Broker Offers the sub-brokers of the company Anant Investments will be entitled to, for a feasible implementation of the business plan.
Offers
Zero Deposit
No
10k Initial Deposit
No
Flexible Revenue Sharing
Yes
Flat Revenue Sharing
No
Zero Revenue Sharing with Prepaid
Yes
There are likely two sub broker offers that are provided to the franchisees of the company. It is the flexible revenue sharing model, followed by the Zero Revenue Sharing with Prepaid.
---
Check out other companies Sub Broker Offers
---
Anant Investments Franchise Support
A fair share of Anant Investments Franchise Support services can be availed for, by the sub brokers. This stock broking company basically looks out for its sub-brokers, as the work they carry is done under the shared trademark, and has to be profitable as well.
Support
Marketing Support
Yes
Back-Office Support
Yes
Trading Support
No
Advisory Support
No
Dealing Training
Yes
Acquisition Training
No
Product Training
Yes
Here is the list of support services Anant Investments provides its customers, so the sub-brokers do not get left out in the race of wanting to excel. The first of the service is marketing and then is the back office support. Also, the company provides training for dealing as well as products.
---
Anant Investments Authorised Person – Brokerage Charges to Clients
The brokerage has to be provided to the houses, each and every stock broking house. It is the amount of brokerage paid, which differs from one house to another. While there are a bunch of Anant Investments Brokerage Charges, here is the charge to be paid, on the basis of the instrument availed.
Brokerage Charges to Clients
Equity Delivery
0.33%
Equity Intraday
0.03%
Equity Futures
0.03%
Equity Options
Rs.35 per Lot
Currency Futures
0.03%
Currency Options
Rs.25 per Lot
Commodity
0.03%
Commonly availing for one of the Equity Intraday, Equity Futures, Currency Futures, and Commodity, the charge will be 0.03%, for each of the instruments. Then, availing of the Currency Option will cost Rs.25 per Lot and Equity Options will cost Rs.35 per Lot. The last Equity Delivery charge would cost 0.33%.
---
Anant Investments Partner – Account Opening Charges to Clients
There are other charges to be paid as well, excluding the brokerage charges and they are the Anant Investments Account Opening Charges. So, at the start, when an account is availed, the clients have to pay a charge of Rs.400, which is in fair terms higher than the average industry charge.
Account Opening Charges to Clients
Demat AMC
Percentage of Transaction
Trading AMC
Rs.250 per Annum
Account Opening Charges
Rs.400
Transaction Charges
0.00295%
Margin Money
Minimum Rs.5,000
Through the account opening charge is high, we, on the contrary, have the minimum margin maintenance at the rate of Rs.5,000. Furthermore, the AMC is as well to be paid, and it is the Percentage of Transactions for the demat account and, Rs.250 per Annum for the trading account. The last charge is a Transaction Charge of 0.00295%.
---
Benefits of Anant Investments Partner Program
Counting on the benefits, which would make you avail of this company's services, here is why you must consider this stock broking house, both for being a client and also a sub-broker.
The first perk we would like to mention is for the clients, and it is a minimum balance of Rs.5,000 to be maintained at all times. This is significantly lower.
For the other benefit, the house charges a pretty low brokerage charge for all the financial instruments availed.
Support and training in rightful ways are all well endorsed which is a pretty fair reason to invest as a sub broker.
Also, the revenue-sharing model is flexible, and the final percentage depends upon you, as a sub-broker.
---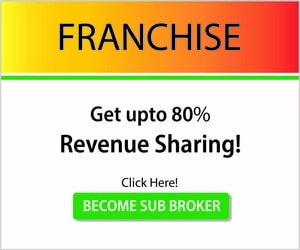 ---
Become a Sub Broker with Anant Investments – Just Fill up the form
---
Find detailed review of other Sub Broker Franchise
---
Important Articles