This particular establishment came into the frame in the year 1994, with a view to enter the finance industry, and has been since, rendering some quality facilities and products. Services are being spread through the Ankit Securities Sub Broker, from the Ankit Securities Franchise, business opportunities provided by the house.
Summary
Top Business Model
Sub Broker
Revenue Sharing
50% – 70%
Security Deposit
Rs.50,000 – Rs.100,000
Become Sub Broker in
25 Days
Receive Payout in
31 Days
Founder
Usha Bhagwatiprasad Mandholia and Bhagwati Prasad Mandholia
Established Year
1994
Taking into account, the top business model of this stock broking house, you will be able to find every necessary revelation of the same. You will find all the informative aspects, which would come handy while becoming a sub broker with firm. Clients have something to benefit from this article as well.
---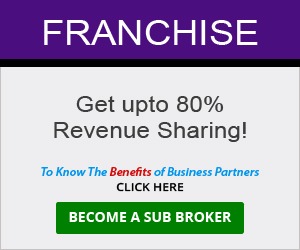 ---
Ankit Securities Franchise – Customer Ratings
Ratings serve as a pathway of light; you would know what you are walking into, if you check out the past experience of the customers as well as the Ankit Securities Sub Broker. You can have an imaginary pathway carved, based on the rating, can coping with the services and products provided by the broking house can be easy.
Customer Ratings
Experience
2.5/5
Services
2.6/5
Products
2.7/5
Trading Platforms
2.3/5
Support
2.4/5
Revenue Sharing Model
2.5/5
Security Deposit
2.5/5
Offers
2.6/5
Market Share
2.3/5
Overall Ratings
2.5/5
Star Ratings
★★★☆☆
You will come across all the facet of the company in connection with the customers and also the sub brokers. They have very well illustrated what you can expect, through the Ankit Securities Customer Rating. Taking all the facets into account, the house is average, with a 2.5 star rating.
---
Overview of Ankit Securities Franchise / Sub Broker
This house is a full service broker, and you are likely to find all the financial instruments with them, you can easy invest with. The Ankit Securities Franchise is a part of this reputed house, which started it work from the state of Gujarat, and then moved to set up its headquarters in Mumbai, Maharashtra.
Ankit Securities Overview
Company Type
Private
Broker type
Full Service Broker
Headquarters
Mumbai
Founder
Usha Bhagwatiprasad Mandholia and Bhagwati Prasad Mandholia
Established Year
1994
SB Code Activation Time
25 Days
Payout Time
31 Days
It is a private establishment which was founded in the year 1994, by Usha Bhagwatiprasad Mandholia and Bhagwati Prasad Mandholia. The company has attained a benchmark in excellence, and its Sub Broker Code Activation Time is 25 days, followed by the Payout Time of 31 days.
---
Become a Sub Broker with Ankit Securities – Just Fill up the form
---
Compare Sub Broker Franchise
vs
---
Ankit Securities Sub Broker – Business Models
You can stay focused on the top model of the company or form instance choose the other model the company offers. We have included every other aspect of both the business models, making it easy for you to make the decision.
Business Models
Master Franchise
Yes
Sub Broker
Yes
Remisier
No
Referral Program
No
Let us begin with what franchise model is, and then we will move on to the Ankit Securities Sub Broker Business Model.
---
Ankit Securities Master Franchise Model
Master franchise model is for those individuals and entities that aim at availing for greater share of responsibilities and also wish to get a higher share of revenue from the dealings done. In this model, the franchisee will be given the responsibility of the franchise activities of a particular territory.
Ankit Securities Sub Broker / Authorised Person Model
For the sub broker business model, the job would be to take part in the stock broking house's operational activities. They will have to sell the goods and products of their franchiser and by sharing their trademark. Some kind of support will be provided to them, followed by the rightful share in the revenue made.
---
Ankit Securities Sub broker Commission / Revenue Sharing
Major part from the Ankit Securities Franchise Revenue Sharing Model, is the right of the franchisees, for which ever business model they opt. The company provides two business models, and so, the table we drafted below comprises of two statistics.
Revenue Sharing
Master Franchise
75% – 85%
Sub Broker
50% – 70%
Remisier
NA
Referral Program
NA
As pointed out before, the master franchise model gives a subsequent greater share in the revenue. It is higher than the sub broker model, and ranges in between 75% – 85%. The other end of the spectrum lies the sub broker model, which has the range of 50% – 70%.
---
Check out Revenue Sharing of other Sub Brokers
---
Ankit Securities Franchise Cost / Security Deposit
We wish to mention the fact that, the greater Ankit Securities Franchise Cost you contribute, the grater revenue you shall be able to earn. You may make a lower contribution as well, and you will be entitled to a lower share of the revenue, but, you need to ensure it meets the range limit set forth by the company.
Security Deposit
Master Franchise
Rs.200,000 – Rs.500,000
Sub Broker
Rs.50,000 – Rs.100,000
Remisier
NA
Referral Program
NA
You will be pleased to know the sub broker cost model of this company, which is lesser than its counterparts, where the maximum goes till Rs.200,000. This company has set the sub broker range in between Rs.50,000 – Rs.100,000, whereas its master franchise model has a range of Rs.200,000 – Rs.500,000.
---
Here are Security Deposit info of other Stock Broking Franchise
---
Ankit Securities Partner Infrastructure Requirement
Sorting out the security deposit is not all you need to keep up with. As the sub broker and the franchise models are all perfectly crafted to be a new business idea, there is the Ankit Securities Infrastructure Requirement, to build up the model.
Infrastructure Requirement
Office Area
Minimum 200 Sq Ft
Employee Strength
Minimum 3
Research Services
Yes
Internet Connection
No
Trading Terminals
Yes
Telephone Lines
Yes
The only requirement excluded from the list is the internet connection. Other than that, being a franchisee of this company, you will have to find an office area of Minimum 200 Sq Ft with Minimum 3 employees. Following which, you need to cater research services, trading terminals and also telephone lines.
---
Ankit Securities Sub Broker Offers
This is nothing you need to cater yourself, rather is the Ankit Securities Sub Broker Offers, which would help you successfully take over the business requirements and also implement them.
Offers
Zero Deposit
Yes
10k Initial Deposit
No
Flexible Revenue Sharing
Yes
Flat Revenue Sharing
No
Zero Revenue Sharing with Prepaid
Yes
The company got your back, and helps you cope up with the terms and conditions of the thereby formed contract, through the offers. The first offer provided is the zero deposit, followed by the flexible revenue sharing model, and then zero revenue sharing with prepaid.
---
Check out other companies Sub Broker Offers
---
Ankit Securities Franchise Support
Offers are for the time of contract formation, but then undertaking the business all by oneself would require some time. Cutting on the extra efforts to be put by the franchisees, there are facilitation's of Ankit Securities Franchise Support, as mentioned below.
Support
Marketing Support
No
Back-Office Support
Yes
Trading Support
Yes
Advisory Support
Yes
Dealing Training
Yes
Acquisition Training
No
Product Training
Yes
Marketing need has to be catered by yourself, while the company chooses to provide support of back office, trading and advisory support. A couple of training support is as well provided by the company on account with the customer dealing and they are dealing training and product training.
---
Ankit Securities Authorised Person – Brokerage Charges to Clients
Moving on with the client centric information, we have included the list of financial instruments followed by the Ankit Securities Brokerage Charges to be applied on them, in the adjacent side, all stuffed in the below mentioned table.
Brokerage Charges to Clients
Equity Delivery
0.15%
Equity Intraday
0.02%
Equity Futures
0.02%
Equity Options
Rs.15 per Lot
Currency Futures
0.02%
Currency Options
Rs.10 per Lot
Commodity
0.02%
While you can have one or more instruments, you need to pay the charge for all of them. First from classes which have the same rate of 0.02% are Equity Intraday, Equity Futures, Currency Futures and also Commodity. Next one is Equity Delivery with the highest charge of 0.15%.
Remaining classes are the Equity Options, which has the charge of Rs.15 per Lot and Currency Options with the charge of Rs.10 per Lot.
---
Ankit Securities Partner – Account Opening Charges to Clients
Here is winding up the other set of charges which are to be paid to the stock broking house, as a clients or the holder of both demat and trading accounts. The first charge is the Ankit Securities Account Opening Charges of Rs.200 which is incurred at the time of availing for an account.
Account Opening Charges to Clients
Demat AMC
Percentage of Transaction
Trading AMC
Rs.300 per Annum
Account Opening Charges
Rs.200
Transaction Charges
0.00285%
Margin Money
Minimum Rs.10,000
The frequently occurring charge is the transaction share which is of 0.00285%, and is applied on per transaction basis. Once in a year occuring charge is AMC for demat of Percentage of Transaction and trading of Rs.300 per Annum.
Another factor to be taken into account is the margin maintenance, where the holders have to keep Minimum Rs.10,000 in the account at all times.
---
Benefits of Ankit Securities Partner Program
Ending up on good terms, and providing a closure for the decision making process, we wish to mentioned some of the benefit, equally pointed towards the clients and the sub brokers.
Clients will find the account opening charges to be quite low, as compared to the other broking houses, where the charge hikes up to Rs.600.
The brokerage charges imposed upon the clients, for opting the instruments are low-priced as well.
Most of the support, to carry on the business activities is provided by the company, in an attempt to encourage quality performance in the industry.
Further revenue sharing model is fair enough, and the best part is that it is not rigid, with rigid terms and conditions. It is flexible in many terms.
---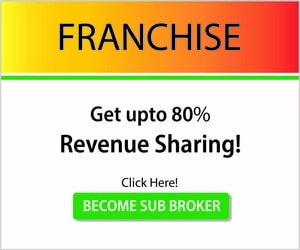 ---
Become a Sub Broker with Ankit Securities – Just Fill up the form
---
Find detailed review of other Sub Broker Franchise
---
Important Articles