Stock brokers have their own structure and formation, but basically follow the standard guideline of the industry, among which the Anmol Share Broking Sub Broker is a part. Go ahead and give this article a read, which is entirely based on the Anmol Share Broking Franchise business models.
Summary
Top Business Model
Sub Broker
Revenue Sharing
50% – 75%
Security Deposit
Rs.50,000 – Rs.200,000
Become Sub Broker in
20 Days
Receive Payout in
40 Days
Founder
Mahesh Kumar Bajaj
Established Year
2005
The time you look over at the mere thought of investing with this company, you need to be well accustomed to the necessary aspects of the top business model of the stock broking firm.
This article is not solely for the sub-broker enthusiasts, as we have client's related information as well structured at the end of this article.
---
Table of Contents
---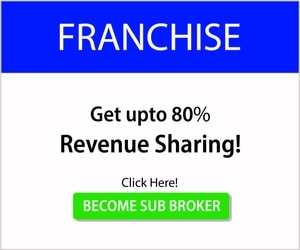 ---
Anmol Share Broking Franchise – Customer Ratings
Rating is basically the first thing we notice while making any decision nowadays; call it a trend but we sure are highly benefited from it. Here is the rating in connection with the Anmol Share Broking Sub Broker, and also the clients or the account holders.
Customer Ratings
Experience
2.6/5
Services
2.3/5
Products
2.6/5
Trading Platforms
2.5/5
Support
2.7/5
Revenue Sharing Model
2.3/5
Security Deposit
2.4/5
Offers
2.6/5
Market Share
2.4/5
Overall Ratings
2.5/5
Star Ratings
★★★☆☆
As per your concern, we want you to look out for the features and aspects of the company, to determine its performance. We included all the Anmol Share Broking Customer Ratings, in connection with the clients and also the sub brokers.
---
Overview of Anmol Share Broking Franchise / Sub Broker
If you are fascinated to know of this company, it was set up in the year 2005, with an attempt to become a well-emerged establishment. They are a dynamic and rapidly growing establishment, providing the Anmol Share Broking Franchise business opportunity.
Anmol Share Broking Overview
Company Type
Private
Broker type
Full Service Broker
Headquarters
Bangalore
Founder
Mahesh Kumar Bajaj
Established Year
2005
SB Code Activation Time
20 Days
Payout Time
40 Days
People willing to establish as their sub broker need to know that they have a fixed Sub Broker Code Activation Time of 20 days, and a Payout Time of 40 days. They are the hub of financial service providers, who belong to the category of full-service brokers.
---
Become a Sub Broker with Anmol Share Broking – Just Fill up the form
---
Compare Sub Broker Franchise
vs
---
Anmol Share Broking Sub Broker – Business Models
There are a lot of firms that provide most of the franchise business models, but this firm provides only one of them. So, if you want to invest in a master franchise, remisier, or referral program, this is probably not the company you need to be looking out for.
Business Models
Master Franchise
No
Sub Broker
Yes
Remisier
No
Referral Program
No
The Anmol Share Broking Sub Broker Business Model is the only model provided by this stock broking house, to franchise enthusiasts.
---
Anmol Share Broking Sub Broker / Authorised Person Model
Sub brokers can be any business entities that are willing to invest in a business idea. The best catch is to invest in an already well-constructed business idea, i.e. this franchise model, where Anmol Share Broking will share its trademark and also the products and services, which you will have to deal with.
---
Anmol Share Broking Sub broker Commission / Revenue Sharing
Taking your concerns away, we wish to make you adhere to the fact that the Anmol Share Broking Franchise Revenue Sharing Model is at par with the industry standards. Yes, also, the percentage entitlement is flexible and subject to change as per your activities.
Revenue Sharing
Master Franchise
NA
Sub Broker
50% – 75%
Remisier
NA
Referral Program
NA
Moving on to the statistics, this stock broking company actually provides facilitation of equal portions of retention, for the minimum criteria. This, 50 percent is subject to a likely increase, which may go up to the maximum extent of 75% in revenue.
---
Check out Revenue Sharing of other Sub Brokers
---
Anmol Share Broking Franchise Cost / Security Deposit
In straightforward terms, the amount of Anmol Share Broking Franchise Cost you provide to the stock broking firm will determine how much revenue percentage you will earn. So, we suggest you get along with the firm and pay a higher share of the security deposit to get the likely amount of revenue.
Security Deposit
Master Franchise
NA
Sub Broker
Rs.50,000 – Rs.200,000
Remisier
NA
Referral Program
NA
So, speaking in statistical terms, you will have to make a security deposit of Rs.50,000 if you wish to actually earn half the share in revenue you generated. This percentage will increase, only if you provide a higher percentage of the deposit, up to the figure of Rs.200,000.
---
Here are Security Deposit info of other Stock Broking Franchise
---
Anmol Share Broking Partner Infrastructure Requirement
A new business establishment of sub-broker will be built, and so the sub-broker will have to establish the foundation of it, as set by its franchiser. Consider it as the selection criteria, which comprises also the Anmol Share Broking Infrastructure Requirement.
Infrastructure Requirement
Office Area
Minimum 120 Sq Ft
Employee Strength
Minimum 1
Research Services
No
Internet Connection
No
Trading Terminals
Yes
Telephone Lines
No
As we spoke of the infrastructure requirement already, here is what you would need in definite terms – an office area that measures a minimum of 120 Sq Ft. Also, an employee strength of a minimum of 1 is to be deployed. The final requirement is trading terminals.
---
Anmol Share Broking Sub Broker Offers
Consider the Anmol Share Broking Sub Broker Offers, a part of the implementation procedure where the business undertaking can be implemented with success, and a contract with some relaxation in account to the franchisees can be formed.
Offers
Zero Deposit
Yes
10k Initial Deposit
No
Flexible Revenue Sharing
Yes
Flat Revenue Sharing
No
Zero Revenue Sharing with Prepaid
No
There are two sets of offers to be provided to the sub-broker by Anmol Share Broking, and they are more than what other sub broker model providing companies facilitate. This house provides a zero deposit offer and also a flexible revenue-sharing model.
---
Check out other companies Sub Broker Offers
---
Anmol Share Broking Franchise Support
You will not be all by yourself, trying to build the sub-broking firm, after getting into a contract with this company. There is certain Anmol Share Broking Franchise Support, provided for some major business activities, so you know the rightful terms of carrying the job forward.
Support
Marketing Support
Yes
Back-Office Support
Yes
Trading Support
No
Advisory Support
Yes
Dealing Training
No
Acquisition Training
No
Product Training
Yes
So, the first and foremost option to be provided is marketing support, you will also be provided with back-office support from this broking house, alongside advisory support. Though this company does not provide dealing training, it does provide product training.
---
Anmol Share Broking Authorised Person – Brokerage Charges to Clients
Being an invested client with this company, you are obligated to pay a certain set of Anmol Share Broking Brokerage Charges. They range as per the instruments you opted for investment, and also the number of investments you went for.
Brokerage Charges to Clients
Equity Delivery
0.30%
Equity Intraday
0.04%
Equity Futures
0.04%
Equity Options
Rs.50 per Lot
Currency Futures
0.04%
Currency Options
Rs.25 per Lot
Commodity
0.04%
There are these four investment instruments, which have the same set of charges i.e. 0.04% and they are Equity Intraday, Equity Futures, Currency Futures, and also Commodity. The remaining charges are as follows:
Equity delivery is imposed with a charge of 0.30%.
The Equity Options has a charge of Rs.50 per lot
Currency options, on the other hand, have a charge of 25 per Lot.
---
Anmol Sub Broking Partner – Account Opening Charges to Clients
But, before you note down the charges of brokerage, you need to know they are not the final set of charges you will have to pay to the company. You will also have some account-related expenses, starting with the Anmol Share Broking Account Opening Charges of Rs.300.
Account Opening Charges to Clients
Demat AMC
Percentage of Transaction
Trading AMC
Rs.350 per Annum
Account Opening Charges
Rs.300
Transaction Charges
0.00315%
Margin Money
Minimum Rs.20,000
The first set of charges is, of course, the account opening charge, and after you have sorted that, you will have to incur a charge of Rs.350 per annum as the trading AMC, and a Percentage of Transaction as the demat AMC. Furthermore, the transaction charges are 0.00315% and the margin money requirement is of minimum Rs.20,000.
---
Benefits of the Anmol Share Broking Partner Program
Count on the benefits provided by the company if you would, and weigh in on how worthy of investment this company would be for the account holders and also the sub-brokers.
The first mention we would like to make is of the account opening charge, which is not cheap but average as per the industry standard, making it economic.
Brokerage charges, on the other hand, are quite low, compared to others that provide significantly low-quality services and products.
The kind of support this stock broking house provides to the sub-brokers is splendid and worthy of mention in the benefits category.
Next is the flexible rather fairly crafted revenue-sharing model of the company.
---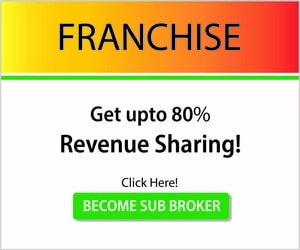 ---
Become a Sub Broker with Anmol Share Broking – Just Fill up the form
---
Find detailed review of other Sub Broker Franchise
---
Important Articles