Tradeplus Online Sub Broker Program is also known as Tradeplus Online Referral Program. They mainly have a referral program for their clients instead of Franchise or Sub Broker. In this article, we will discuss about Tradeplus Online Franchise or Referral Program in detail along with their Revenue Sharing Model, Cost & more.
Summary
Top Business Model
Sub Broker
Revenue Sharing
50% – 70%
Security Deposit
Rs.50,000 – Rs.100,000
Become Sub Broker in
35 Days
Receive Payout in
30 Days
Founder
Gunasekaran Raghuraman
Established Year
2012
TradePlus Online is a conglomerate of two companies namely Navia Markets Ltd & Navia Commodities Broker Pvt Ltd. Since its inception in the year 1983, it has been progressing steadily in the financial services industry.
In 1995, it got registered with National Stock Exchange (NSE), in 1997 it got associated with NSDL as a Depository Participant and with CDSL in 2018. For Equity Stock broking, it got registered with BSE in the year 2010 and for Commodity Broking Tradeplus got associated with MCX in the year 2009.
TradePlus follows the 3T guiding principle for Customer service – Transparency, Technology and Timely service. For them, Customer comes first and customer's needs are to be given utmost priority.
This approach has helped them sustain in this business despite cutthroat competition. And this how they have successfully retained more than 40,000 happy & active customers not only in India, but all across the globe.
---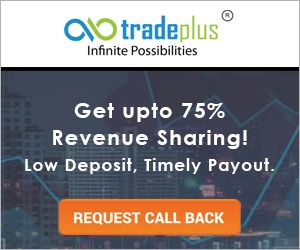 ---
Tradeplus Online Sub Broker Customer Ratings
Tradeplus Online Franchise
Experience
2.40
Services
2.30
Products
2.50
Trading Platforms
2.60
Support
2.30
Revenue Sharing Model
2.40
Security Deposit
2.20
Offers
2.50
Market Share
2.30
Overall
2.39
---
Compare Sub Broker Franchise
vs
---
Type of Tradeplus Online Sub Broker Business Models
The broking house has only one business model.
 Client Referral Program or Sub Broker Model
---
Start your business with Tradeplus Online Authorised Person – Just Fill up the form
---
TradePlus Online Sub Broker or TradePlus Online Referral Program

TradePlus works purely on a Referral business model. If you have been into the trading profession since some time and want to have a recurring income, TradePlus can give you that platform. Here, just by adding clients to your circle, you can earn referrals as well as trade benefits and brokerage from your clients.
The Trade Plus Referral program not only gives you a referral bonanza for someone you have referred, but also ensures that you get paid every time your referral trades through TradePlus. This model has a high earning potential as it ensures everyone gets benefited from each other.
---
TradePlus Online Referral Commission or Revenue Sharing Model
Making money through the TradePlus Referral Program is fairly simple and easy to understand. You need to refer friends and family to join Tradeplus and as soon as they join in & recharge their account you get their referral money.
Additionally, every month you will get 100% value of their base pack subscription plus 50% value of their Value pack subscription back as a referral bonanza. Which means, every client that it added to your network, you earn from him / her every month and not just once.
Its like a chain; they earn, you earn and the company also earns. If you have to calculate selling to one just customer a month for each of the Packs, then you end up earning Rs. 1547/- for each referred client every month. You can just imagine how much is the scope of this business.
| | | |
| --- | --- | --- |
| Business model | Tradeplus Commission | Referrer Commission |
| Referral Program (Base Pack) | 00% | 100% |
| Referral Program (Value Pack) | 50% | 50% |
---
Check out Revenue Sharing of other Sub Brokers
---
TradePlus Online Franchise cost or Security Deposit
Unlike other Stock Brokers, Tradeplus doesn't burden you with a Security deposit or minimum guarantee amount to start off a business. It just checks how many referrals you can provide and how much you can expand your business.
They will also support you in all your Marketing and Branding needs to grow your business efficiently. There is also no obligation to have a dedicated office space or a set of team members to join the TradePlus team.
| | |
| --- | --- |
| Business model | Tradeplus Online Deposit required |
| Referral Program | Zero |
---
Here are Security Deposit info of other Stock Broking Franchise
---
TradePlus Sub Broker offers
The first and foremost benefit that TradePlus offers to its partners is the Lowest Refundable Brokerage plans across the industry. Which means you save more and earn faster. While trading in Options, Commodities and Currency Derivatives, you h=just need to pay flat Rs 99/- per month. If you are trading in Equity Futures, then you pay a flat fee of Rs 799/- per month. You just pay a Monthly fee and trade how much ever you want, there is no capping on the trade limit. And if you don't trade in a given month at all, then the monthly fee is refundable.
TradePlus has come up with some really Nextgen Trading Platforms which enable smoother transactions. INFINI Power, INFINI Web and TradePlus Mobile are the tools that are used by Tradeplus to trade. These tools make trading a different experience altogether as they are user friendly, futuristic and also throw a lot of market analytics at you to dwell on. So all that speculation and ambiguity on what to invest and when is taken care of.
The amazing Referral scheme is the most fascinating benefits offered by TradePlus. You can earn 100% of the monthly subscription fees of the referred person if he trades for Commodity, Currency and Options; while with Futures trading you can earn 50% of his subscription back.
With TradePlus, everything is very easy and fast; right from Account Opening to referring to trading. The Account opening is also a digital format where you just need to upload your KYC documents and your account gets opened instantly.
---
Check out other companies Sub Broker Offers
---
How to become TradePlus Online Sub Broker or Referral Partner?
Collaborating with TradePlus is really very simple and hassle free. It is one of the very few Stock Broking companies of India to have launched a Digital KYC platform.
All you need to do is fill up an enrollment form online below. You will receive a call & link to upload your KYC documents. Within 15 minutes, your account is opened. Your KYC details are fetched and matched from the Adhaar Website and are eSigned through E-Mudhra.
Referring someone to join is also as simple as this. You just need to login to their portal and enter the contact details of the person whom you want to refer and mention your 8 digit Broking code in the form.
Once the referral joins in and his account is opened, you will receive a notification.
Documents required for TradePlus Sub Broker registration
Identity Proof
Age Proof
Address Proof
Academic qualification proof
Registration certificate of SEBI or any Stock Exchange
Cancelled cheque for bank account details
---
Why Partner with TradePlus Online?
TradePlus, being a discount Broker offers the lowest Brokerage rate in the country. Even your clients and referrals would be delighted to work with such a discount broker. This concept of paying a monthly fee and no zero brokerage on unlimited trade is not something, which any other Broker provides till date.
Tradeplus Online is equipped with latest technology tools and trading platforms, TradePlus gives an edge to its clients while trading.
The varied range of product line like Mutual funds, IPO, Equity broking, Depository services offers customers everything at one go.
Moreover more than 40,000 happy customers definitely vouch for great services with TradePlus.
---
Start your business with TradePlus Sub Broker – Just Fill up the form
---
Find detailed review of other Sub Broker Franchise