Value Trade Sub Broker Model is new in the Stock Broking Sector. Although the company is operating since long but their broking franchise model launched in 2014. Let us discuss the detailed review of the Sub Broker Model with My Value Trade.
Summary
Top Business Model
Sub Broker
Revenue Sharing
60% – 75%
Security Deposit
Zero
Become Sub Broker in
31 Days
Receive Payout in
30 Days
Founder
Prasanna Kandeepan
Established Year
2015
This article illustrates in detail about Value Trade business model, the various Sub Broker offers it provides and why one should choose My Value Trade as a Business.
My Value Trade started its operations in the year 1985 and ever since it has been a pioneer in the Stock Broking Industry breaking all records and overcoming all boundaries.
They have always been trendsetters in whatever they do be it their humongous amount of revenue trade per day or launching of unlimited plans for traders. Yes, they were the ones to come up with the unlimited trading plans for traders.
---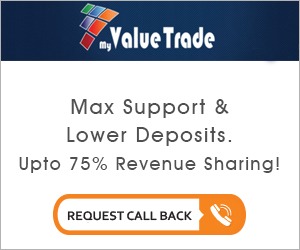 ---
Value Trade Sub Broker Customer Ratings
Value Trade Franchise
Experience
2.60
Services
2.30
Products
2.70
Trading Platforms
2.30
Support
2.80
Revenue Sharing Model
2.60
Security Deposit
2.40
Offers
2.80
Market Share
2.40
Overall
2.54
---
Compare Sub Broker Franchise
vs
---
Types of My Value Trade Sub Broker Business
Sub Broker or Associate
Referral Business Model
---
Start your business with Value Trade Sub Broker – Just Fill up the form
---
My Value Trade Sub Broker or Value Trade Franchise
My Value Trade Sub Broker or Associate Partner model is a basic business model wherein the Sub Broker becomes a licentiate advisor with MVT and can thereafter trade using the MVT tools.
He/She can also acquire more clients under this portfolio and trade for them using the MVT Trader or Classic tools.
My Value Trade Referral Business Model
Through the MVT Referral business model, one can also refer their friends and family to join My value Trade as an Associate and get rewarded Rs. 1000 instantly for it. You can further use this referral money to trade for yourself or withdraw it in your bank account as well.
---
My Value Trade Sub Broker Commission or Revenue Sharing

The My Value Trade proposition offers the lowest Per Executed Order brokerage to its traders. Your client can trade across any segments and pay Rs.10 per executed order irrespective of the trade amount or turnover. That ways your client can save a lot of money in brokerage per month & it is an effective tool for quick client acquisition.
The Revenue Sharing for Value Trade Sub Broker model is in the range of 60%-75%, wherin the Sub Broker gets 60% to 75% sharing while Value Trade gets 40%-25% depending on the amount of security deposit provided by the sub broker.
In the Referral model, there is fixed Rs.1,000 is awarded to the referer once the account is opened. The can refer any count of clients will get fixed amount of Rs.1,000 per client.
| | | |
| --- | --- | --- |
| Business model | Value Trade Commission | Sub Broker Commission |
| Sub broker/ Business Partner | 25% – 40% | 75% – 60% |
| Referral Model | 100% | Rs.1,000 Fixed |
---
Check out Revenue Sharing of other Sub Brokers
---
My Value Trade Franchise cost or Security Deposit
For the 1st Model i.e. Value Trade Sub Broker or Value Trade Franchise model, the authorised person has to put an initial investment of Rs.50,000 to Rs.75,000 with the Broking house. This Security amount is refundable once the Business Partner exits the agreement. Range of Investment marks the range of Revenue Sharing. High investment leads to high revenue sharing & vice versa.
There is no Security Deposit mandate with My Value Trade Referral Program, you can just open up a Trading Account and get started. You just need to pay Rs.555 as account opening charge & then you can start referring clients & receive the benefit of Rs.1000 per referral.
| | |
| --- | --- |
| Business model | Value Trade Deposit required |
| Sub broker/ Business Partner | Rs.50,000 – Rs.100,000 |
| Referral Program | Zero |
---
Here are Security Deposit info of other Stock Broking Franchise
---
My Value Trade Sub Broker Offers
My Value trade, being India's largest Discount broker, offers some exciting benefits for its traders so that they can earn maximum and without any hassle:
Value Trade offers Simplified Trading options wherein you can save the brokerage plan as per your trading pattern. You can choose to either pay a Per Order Executed brokerage or get onto an unlimited Monthly or Yearly plan wherein you just pay a subscription fee and thereafter don't bother to pay anything on a per trade basis.
With MVT, you can trade in all segments at one go be it currency, derivatives or commodity.
The MVT Trader is their single trading platform, which offers multi segment trading in one single portal. The MVT Trader is equipped with modern trading tools which inbuilt reporting and analysis benefits.
It has a single login option as well for both the tools – MVT Trader and MVT Classic so that you don't have to remember both passwords and add for confusion. With one single login, you can access both the systems.
The backend Dedicated Helpdesk team that My Value Trade provides is efficient in answering any of your queries pertaining to the trading options and tools as well.
My Value trade has tie ups with 45 major banks in the country, hence there is smooth fund transfer that is enabled between these two. Some of the banks that My Value trade already has tie up are Axis Bank, SBI, HDFC Bank, ING Vyasya, Standard Chartered Bank, ICICI Bank, Yes Bank, Bank of India etc.
---
Check out other companies Sub Broker Offers
---
How to become Sub Broker of My Value Trade?
My Value trade has an open door policy for Referral Program where it allows anyone and everyone to associate with them. You can open an account with MVT instantly by filling up an online form and uploading the E KYC online. The E KYC will then gather your information automatically and validate for account opening.
For Sub Broker Registration, the process requires filling up the form here & then you will receive a call. Post that an appointment will be fixed with the representative & then documentation & Agreement process will take place. This entire process takes 2 weeks of time. SEBI Registration Certificate is mandatory for any Sub Broker registration. Check the below documentation.
Documents required for My Value Trade Sub-broker registration
Basic KYC documents need to be provided for the Sub Broker registration and then the EKYC tool would validate your authenticity.
Age Proof – Passport or Pan Card
Identity proof – Adhaar Card, Pan Card, Driving License, or any Govt ID card
Address Proof – Adhaar card, Passport, Driving License or any utility bill
SEBI Registration certificate
Bank Account details – You can provide a cancelled cheque for bank account details
---
Understand the Documents Requirement of other Sub Brokers
---
Why Partner with My Value Trade?
My Value Trade has been a renowned name in the stock broking industry for more than 3 decades now. It is a pioneer in its innovation and is known for coming up with better and faster trading methods for its traders. This company came up with unlimited plans wherein one can trade unlimited by offering a monthly subscription; hence a constant worry of paying brokerage was taken off the traders' minds.
It practices best trading practices using modern trading tools like MVT Trader and MVT Classic. Using these tools, you can trade on multiple segments at the same time.
The trader gets an option to choose his brokerage plan depending upon his trading pattern. If he is a regular trader and has good amounts traded on a regular basis, he can get rid of paring large brokerage by just opting for the unlimited plan, which charges only Rs. 1000 per month or Rs 10,000 per year.
---
Start your business with Value Trade Sub Broker – Just Fill up the form
---
Find detailed review of other Sub Broker Franchise