Wisdom Capital Sub Broker Program is new to the broking sector. The broking house doesn't really have a sub broker or franchise model, they have referral or remisier model only. Lets have a detailed discussion on Wisdom Capital Franchise, its revenue sharing model, security deposit & more.
Summary
Top Business Model
Remisier
Revenue Sharing
25%
Security Deposit
Zero
Become Sub Broker in
33 Days
Receive Payout in
27 Days
Founder
Ankit Garg
Established Year
2013
Wisdom Capital is very well known as the best Discount Broker in India as of now. It has transformed the way India trades today by offering innovative and revolutionary plans with Zero Brokerage. It was the first mover to introduce discount brokerage in India.
Since its inception in year 2013, Wisdom Capital has gained popularity due to its broad customer centric approach and innovative ability to come up with new plans and services. This is the only company that offers Lifetime Zero Brokerage for trading in all types, which actually a boon for traders.
The Broking house is the fastest selling and the most preferred Stock Broking company for all traders specially in Delhi & NCR Region.
---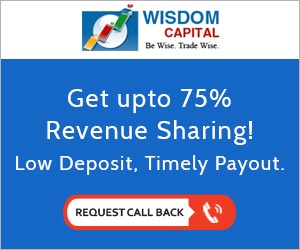 ---
Wisdom Capital Sub Broker Customer Ratings:
Wisdom Capital Franchise
Experience
2.50
Services
2.60
Products
2.90
Trading Platforms
2.50
Support
2.70
Revenue Sharing Model
2.50
Security Deposit
2.70
Offers
2.60
Market Share
2.00
Overall
2.55

---
Compare Sub Broker Franchise
vs
---
Types of Wisdom Capital Sub Broker Business
At Wisdom Capital, they invite everyone to become a Business Associate. Anyone who trades and wishes to expand his business further, can enroll as a Partner and add more people to the team. The Wisdom Capital Franchise business works on the referral model.
They believe in word of mouth as the strongest medium of Marketing. Hence rather than spending a hefty amount on Marketing and branding, it spends that as referral amount and incentives for the Sub Brokers to earn.
---
Become Sub Broker of Wisdom Capital – Just Fill up the form
---
Wisdom Capital Referral Program or Wisdom Capital Sub Broker
Registering with Wisdom Capital and becoming a Sub Broker is very simple, all you need to do is open up your trading account free of charge and then you are free to invite and add as many people as you want, there is no capping at all.
This model is a recurring lifetime income model where every trader that you have referred generates an income for you every time he trades. Every time your referred person trades through Wisdom Capital, you will be given a share of his Brokerage; which means the more number of people you refer, the more earnings you will have each month.
---
Wisdom Capital Sub Broker Commission or Revenue Sharing Model
The association with Wisdom Capital works on the chain of referrals that you create. There is a Direct Referral and an Indirect Referral (whom you have not directly referred), you will be paid a percentage of their brokerage each time they trade.
The company parts away with 25% of the Brokerage from the Direct referral and 25% from the Indirect referrals giving you ample quantum to bank your own trade on.
Earnings from Direct Referrals:
| | | |
| --- | --- | --- |
| Monthly Brokerage from Referrals | Sub Broker Earning | Wisdom Capital Earnings |
| Up to 25000 | 25% | 75% |
| 25001 – 50000 | 50% | 50% |
| Above 50000 | 70% | 30% |
Earnings from Indirect Referrals:
| | |
| --- | --- |
| Total Brokerage from referrals | Sub Broker Earnings |
| Level 2 | 5% |
| Level 3 | 5% |
| Level 4 | 5% |
| Level 5 | 5% |
| Level 6 | 5% |
---
Check out Revenue Sharing of other Sub Brokers
---
Wisdom Capital Franchise Cost or Security Deposit
As a principle, Wisdom Capital doesn't charge a single Rupee as a Security deposit as compared to all other Brokers. Infact there is no Account Opening fee or Annual Maintenance charge as well. They also offer Lifetime Zero Brokerage Online trading through various Freedom Plans.
| | |
| --- | --- |
| Business model | Wisdom Capital Deposit required |
| Sub broker/ Business Partner | NIL |
---
Here are Security Deposit info of other Stock Broking Franchise
---
Wisdom Capital Sub Broker Offers
Wisdom Capital offers an array of benefits to its Partners to enhance their business:
Free Trading and Demat Account – there is no charge whatsoever in the account opening for the Trading as well as the Demat Account
Zero Brokerage for all equity trading; you just need to pay a monthly subscription fee as per your plan and get unlimited trading free without any Brokerage charge.
Lifetime Maintenance charges are also free
The innovative Trading platform can help seamless trading and can be accessed from Desktop, laptop or Mobile as well
Round the clock Call and Trading facility is available from morning 9am to 12pm in the night.
Dedicated team of Back office support who are ready for any assistance.
---
Check out other companies Sub Broker Offers
---
How to become a Sub Broker of Wisdom Capital?
Becoming a sub broker with Wisdom Capital is fairly simple; you don't need to invest anything, no guarantees or security deposits required; just fill in the application form and open your demat account.
Once your Trading account is activated with Wisdom, you can refer others to this portal and get them enrolled as well. Invite your referrals via Facebook, Twitter, emails and other sources and once they sign in, you will be notified about it.
You can also track your referrals and their trades on the Back office portal and similarly you can track your earning in the portal itself.
Documents Required for Wisdom Capital Sub Broker registration
For opening a Trading account, you need some basic KYC documents:
Address proof – you can submit either of the following as address proof – Voter ID, Adhaar Card, Passport, Driving License etc
Date of Birth proof – you can submit either your passport or the Pan Card.
Identity proof like the Passport, Driving License, Adhaat Card or Pan Card
They would also need your highest qualification document for records
SEBI or any Stock exchange registration certificate is also required
---
Why Partner with Wisdom Capital?
Wisdom Capital has been a pioneer in online trading ever since its launch.
Wisdom Capital has been awarded with NSDL Star performer award for consecutive 3 years in a row.
Till date Wisdom Capital has more than 15000 happy customers who regularly trade with us.
Wisdom capital Sub Broker gets all services at much lower rates as they are a discount broker.
They offer upto 5 times delivery margin on NSE trades for delivery and carry on trades. It offers the highest Intraday margins as well ranging from 10 times to 40 times as well.
They have more than 100 Customer Support executives from 9am – 11:59pm to ensure 100% support whenever required.
They have ideated a Robust Trading platform, which is accessible over laptop, desktop and mobile too. So you can trade while on the go.
Extensive market research and analytics is another advantage to its customers and Sub Brokers.
---
Start your business with Wisdom Capital Sub Broker – Just Fill up the form
---
Find detailed review of other Sub Broker Franchise